Turkmens Seek More Support From Turkey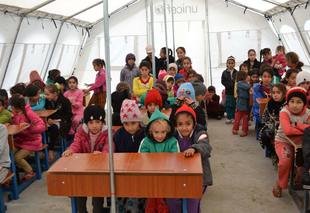 Iraqi Turkmen who fled from ISIL want protection for those they left behind, and political support from Ankara.
The Islamic State of Iraq and the Levant (ISIL) kidnapped hundreds of civilians, including Yazidi and Turkmen girls, during their offensives across northern and western Iraq last summer.
Children sit in a makeshift classroom on February 12th at a camp in the Iraqi town of Yeryawah, which hosts displaced Shiite Turkmen families who fled from the city of Tal Afar after attacks by violent extremists.
Iraq's Turkmen community has been continuously calling for weapons to join in the fight against ISIL militants, and Shiite Turkmen fighters successfully resisted a months-long ISIL siege of the small town of Amerli in Salahaddin province.
Experts and Turkmen representatives are asking officials in Ankara to revise their foreign policy to embrace Turkmen people in Iraq.
"What we request from the Turkish government is political support," Mehmet Tutuncu, head of the Iraqi Turks Culture and Solidarity Association, told SES Turkiye. Tutuncu also asked Turkish authorities to warn Iraq's government about the anticipated fighting in Tel Afar.
ISIL militants have kidnapped 450 Turkmen civilians in Iraq, Ali Akram Bayati, president of the Turkmen Saving Foundation, announced last week.
Iraqi forces are expected to start an offensive operation against ISIL in order to take control of Mosul and Tel Afar, according to Tutuncu.
"The Turkish government must warn the Iraqi government about the approaching Tel Afar assault. Those who stayed in Tel Afar are Sunni Muslims. The Iraqi Army consists of Shias," he continued. "The army shouldn't assume that Sunni residents are pro-ISIL. They shouldn't kill them because they are Sunni."
Tutuncu argued that a warning from Ankara could have a significant impact on Iraq because Turkey has been considered an important player in the region.
Although Turkmens have been fleeing their homes and moving to Turkey, Kirkuk and Baghdad, there are still 20,000 to 25,000 people left behind in the Tel Afar region. ISIL militants captured Mosul and Tel Afar in June. During ISIL's assaults in Tel Afar, about 300,000 defenceless Turkmens were forced to leave their homes with no food or water.
Some lost their lives during the fighting.
Sinan Ogan, the head of the Centre for International Relations and Strategic Analysis (TURKSAM), told SES Türkiye that Ankara's foreign policy lacks sensitivity when it comes to Turkmens.
"Iraqi Turkmens have long been requesting ammunition and training from Turkey, however, the Turkish government has been ignoring their request," he said.
He also alleged that Kurdish peshmerga fighters forcibly took away aid supplies that were sent for Turkmens.
"Turkmens who have been fleeing ISIL also weren't able to enter provinces like Kirkuk, which is under the rule of Northern Iraqi government," Ogan said.
"The Turkmen people are left alone in the international arena. Turkey should take responsibility in defending the rights of these people. However, Turkey's red lines about Turkmens have turned pink," he said.
In a written statement to SES Türkiye, the Disaster and Emergency Management Authority (AFAD) said Turkey has been doing its best to secure Turkmen people.
"Turkey is the first country which established camps inside Iraq and has been delivering help to the people in Iraq without discrimination against language, religion or race," the statement said.
AFAD set up three camps in Iraq in order to supply basic needs for Turkmen people who were displaced due to the ISIL threat. The camps have a total capacity of 34,500 people. So far AFAD has sent about $30 million worth of humanitarian aid to Iraq.
Another 2,700 Turkmen found refuge inside Turkey at AFAD's camp in Islahiye, Gaziantep. The rest spread to other cities, mainly Ankara, Eskisehir, Konya, Kayseri and Istanbul. Their total number has exceeded 13,000.
Tutuncu added that along with AFAD and other Turkish NGOs, the Iraqi Turks Culture and Solidarity Association has been working to supply the basic needs of Turkmens living in Turkey.
"Our latest aid campaign consisted of mostly supplies for children and infants. We continue to provide food and financial aid," he said.
Ogan said Turkmen people who fled Iraq are enduring difficult conditions.
"First of all, Turkmens do not have equal rights as the Syrian refugees who have been recently granted with temporary protected status," he said.
Thanks to a recent initiative by Turkey's government, the temporary protected status will allow Syrian refugees to work and have access to education and free health services.
"Thirty to 40 people live in the same house," Ogan said of Iraqi Turkmen. "Children do not have the right to go to schools, the patients do not have right to get health services."
Because they do not have residency permits, the state does not provide Iraqi Turkmen with utility services when they rent houses.
According to Ogan, Turkmen people should raise their voices to obtain basic human rights, and Turkey should follow a more equal policy toward the Turkmen minority.
By Zeynep Cermen for SES Turkiye in Istanbul — 25/02/15
Source: http://turkey.setimes.com/en_GB/articles/ses/articles/features/departments/world/2015/02/25/feature-01